Western Canada's Trusted 3PL Provider
With coverage for all of Western Canada and the ability to grow with your business, we are your Calgary based 3PL partner you can rely on.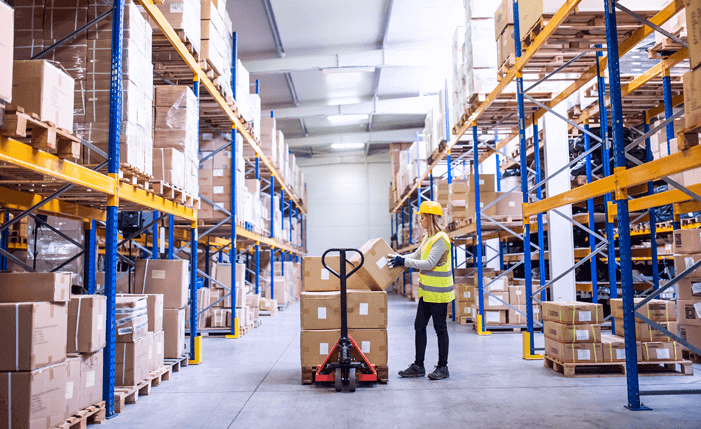 Eliminate the Worry of Managing Your 3PL
Our team of experts will manage all supply chain needs, whether it's getting you set up for the first time or managing complex global operations. We provide frictionless movement of goods from those who sell, to those who buy and everyone in between.
End-to-End 3rd Party Logistics Solutions
Value-adding solutions down to the last mile

Turnkey 3PL management services for all sizes and scopes.

Custom packaging and labels

Shipping and distribution solutions powered by Routeique for B2B and B2C customers.
E-Commerce Fulfillment Center
Turn eCommerce into a driver for your business.

Start from scratch or build on existing platforms.

Complete order fulfillment and distribution solutions by Routeique.

Digital marketing, customer service, and more!



3PL Tech Solutions by Routeique®

Integration with your ERP or E-Commerce system
3PL client portal to view order and inventory status
Real-time order status notifications and proof of delivery
Route optimization and vehicle tracking



Cross-Docking & Rework Services
Re-organizing containers
Adding promotional materials to shipments
Re-wrapping and stacking product
Loading and reloading product onto a different outbound vehicle





Save Money
By outsourcing your deliveries or warehousing and storage, you are able to cut the costs associated with maintaining a facility or a fleet of vehicles to deliver your products.
Scale Your Business Quickly and Efficiently
No matter your starting size, as you expand, so do 3PL services. The services can be scaled as small or as large as you require.
Improve Customer Satisfaction
With state-of-the-art delivery tracking, increased visibility through clear reporting, and continuous contact with distributors, your customers can rest assured their orders will be delivered.

Gain Access, Expertise, and Experience
Having a 3PL team means you have the most knowledgeable and experienced team behind you. They know how to help your business be the best it can be.
Focus on Other Areas of Your Business
With your mind off managing your product, you can focus on building parts of your business that are important to you.
Service
Every member of the Birkby family is committed to providing world-class service for our customers, vendors, and clients across North America. We are driven by the belief that every touchpoint matters, and are committed to providing support and adding value in everything we do.
Innovation
Birkby's 3PL solutions are powered by Routeique, an industry-leading order and delivery management system. Driven by cloud-based, end-to-end inventory management, Routeique optimizes supply chains through data-driven insights and automated solutions for every logistics challenge.
Experience
Since 1918, Birkby has built its reputation on trust, transparency, and a drive to "get it wherever it needs to be." Many things have changed over the last hundred years, but our commitment to supporting our clients remains the same.
The best thing about the system is that it is real-time and cloud-based. You can see your inventory, orders and even order status real time. The system has POD's for each order shipped, Lot tracking.

Great experience and I know they are constantly improving and evolving their platform.
Supply Chain Manager - Murray Market National
Thank you for an exceptionally well-led eCommerce build and launch. Your process organization and attention to detail, especially during the integration and testing, exceeded my expectations! But what I probably valued most, is it seemed you guys cared about the outcome almost as much as we did. Highly recommend team Routeique/Birkby!
Dan Braun - Sr. eCommerce Manager Silver Hills Bakery
10,000 orders delivered each month
On average, we power customers growth of 37% YOY
Reduced our customers shrink by 12% on average
What areas do you service?

While our main warehouse is located in Calgary, Alberta; we provide our services all throughout Western Canada. We have the means and resources to work with clients across the country!
What services do you offer?

We're a high-turn order fulfillment center, providing order fulfillment for B2B and B2C orders, with capabilities to handle:

We also offer several transportation options including our own local delivery fleet in Alberta as well as a Western Canadian carrier network.
What is Routeique®?

Routeique is a cloud-based logistics platform and the partner company of Birkby. Together, the two companies deliver tech-enabled 3PL services. As a client of Birkby, you will be able to use your Routeique portal to view your inventory on hand and order fulfillment statuses.
Can I integrate my E-Commerce website or ERP system?

Routeique offers technical services so we can implement & maintain integrations between Routeique and your E-Commerce platform or ERP system. There is also an open API if your team would like to implement and manage the integration.
Do You Own Your Fleet?

We have our own fleet of vehicles delivering within Alberta, and a large Western Canadian carrier network. We also have all the major parcel carriers visiting our facility daily for parcel shipments.
How does your price compare to other providers?

We're not the lowest-cost provider. We're here to deliver a high level of service and build long-term partnerships with our clients.
How does your pricing model work?

Our pricing model is based on the volume of product moving through our warehouse, as well as the number and complexity of inbound/outbound orders. We only invoice for what you actually use, rather than using blended rates for each case or pallet.